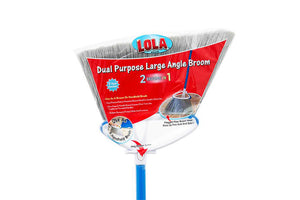 We get it. Using the conventional broom is what most of us are used to. So, when people try to re-invent it, sometimes it doesn't make sense right? But let us remind you that your regular broom is designed generally for wide floor areas which is common. However, it doesn't apply to all kind of houses. So, our question to 'broomers' or broom users is, "how about corners, gaps and other hard-to-reach areas?"
Say no more, because we already have the solution. No need to look further because here we introduce you to one of our most popular brooms: the Lola Angle Broom!
For those who are not yet aware, this cleaning tool is part of our goal not just to reinvent regular cleaning tools but also to revolutionize the way we clean our homes. That's what our version of broom will do, with its 12-inch sweep surface that can go deep into narrow corners and its washable cleaning fibers that ensures it will be clean every time you use it.
It is suitable for different types of hard surfaces, cleaning them thoroughly without leaving even an inch of scratch. It also has protective features such as its rubber bumpers to make sure walls and furniture won't get damaged. It can be used in and out of your house as it will trap and collect all types of dust, dirt, and debris.
Not only that. One of the features that sets Lola Angle Broom apart from its counterparts is its detachable broom head that allows you to clean small areas or high surfaces where you don't need the long handle to get in the way! It has a release button and a snap-in connector to support the detaching function. It also has a hang hole in its easy-to-assemble 4-piece resin coated steel that makes storing and keeping it easy for you!
This broom is truly durable, effective, and innovative! We also offer two other versions, one with a larger size and one with a dust pan. This is to give you a choice based on the specific needs of your home. 
If you are the type of person who wants no area within and without your home left uncleaned, then this one is perfect for you! It comes with an affordable and reasonable price. So, get yours now and its benefits will be yours in no time! Just imagine how comfortable it is to live in a home knowing that it is really thoroughly clean even from deep within. This is also a way to make your home presentable for your guests and visitors if that's the kind of lifestyle you have.
Most importantly, you make yourself and your family safe from illness which can be caused by excessive dirt and allergens. Now more than ever, health should be our top priority especially with everything that's happening around. So, choose tools such as this Lola broom because we designed them with your welfare and safety in mind.