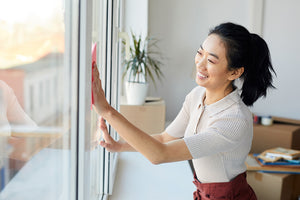 Did you just moved in to a new flat that has been uninhabited for a while or came back after staying abroad for months due to quarantine?
You are just in time for some Spring Cleaning. For houses that were left untouched for quite some time, it may require lots of effort but with the right strategy and cleaning equipment, nothing is impossible.
Here are some parts of the house where you can start your spring cleaning/home revival!
Windowsills and Window Tracks
These parts are essential as they give way for light and fresh air to get into the entire house. When unchecked for a long time, they are more likely to have a buildup of dust and dirt.
Therefore, part of your spring-cleaning routine will be to wipe them thoroughly with a cleaning cloth such as the Lola Wowables™.  
Instead of using paper towels that easily breaks or makeshift rags that can get dirty easily, our Wowables are more reliable because they are durable, reusable, and treated with anti-microbial agents.
Curtains and Window Blinds.
Even if you are putting some new ones, expect that dusting your curtains and window blinds will be a part of your regular cleaning and your spring cleaning routine because these are where debris are often trapped.
We advise you to use our 360° Duster Extender Kit during times of need. It has dusting fibers that covers all angles and effectively removes harmful dust and allergens.
You do not have to worry about not reaching the entire curtain because this one has an extendable handle that can reach up to 3 feet.
Baseboards, Shoe Molding, and Corners
Cobwebs and dirt buildup are common on corners especially if there is no one cleaning them for a long period.
Now you can put an end to this with the help of Lola Rola Sticky Mop™; the all-around cleaning tool with easy-to-tear sheets that collect dust, web, and any other debris along the way.
You can instantly clean baseboards, shoe molding, and all other corners near your floors without a sweat because of this tool's long handle and lightweight built.
This one is not only efficient; it also offers a convenient and enjoyable spring-cleaning experience.
Doorknobs, Cabinet Handles, and Light Switches.
These common areas are among the things that you should look out for when moving back into the house.
The spread of contamination is quick and absolute when exposed on these. Therefore, quick action must be done.
Have faith because you can count on our Anti-Microbial Clean N' Wipe Cloths to treat these areas and free them from disease-causing bacteria.
You may also want to seek help from your chosen reliable cleaning chemicals because not only your health but also of those who will visit the house will be put at risk.
 We should learn to be wiser especially during these times where viruses such as COVID-19, which almost brought the world to its knees, are capable of causing massive outbreak and worldwide pandemic.