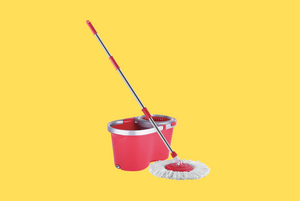 Don't you want to mop your floors with a clean microfiber mop head every time? You certainly do! A microfiber mop is essential for keeping your floors sparkling, whether you're scrubbing sticky messes on your kitchen floor or sweeping dust from hidden corners of your home. While cleaning tools with built-in sprays and disposable pads are convenient, nothing beats a traditional microfiber spin mop at picking up dirt and grime. And if you're looking for the best and most affordable spin mop in the market, you are in the right place!
Presenting... The Revolution™ Microfiber Spin Mop System by Lola®. It is a simple, yet effective, spin mop made with braided microfibers that can help you achieve shiny floors without using harsh chemicals because the brush is made with millions of fibers to capture fine dust particles. It's great for any hard floor surfaces, and polishes them as you go! Moreover, the microfiber head is capable of 180° swivel action, which makes it easier to clean tight corners, underneath your furniture, and other difficult-to-reach surfaces.
Equipped with a built-in wringer spin-cycle technology, it also comes with a Washer/Dryer Bucket Spinner System which allows for complete control of the drying and wringing out of the mop to your desired moisture level. Simply soak the head in the soapy water side and immediately spin it dry on the spinner side. The dirty water is collected at the bottom of the bucket and released using our simple-to-use drain plug. And speaking of the spin mop bucket, it's also built with a self-balancing feature to prevent spilling of water while you're on the move. These features are definitely worth every buck, right?
That's not all! When the brush head begins to show signs of wear, simply toss it in the washing machine for a quick refresh because the microfiber head is machine washable for up to 300x! This means that it may take a while before you would need The Revolution™ Microfiber Spin Mop Refill. Affordable, indeed!
So what are you still waiting for? Head on to the Lola® website, and don't miss out on this amazing product! No more cleaning with a dirty mop, and your hands will never touch a mop head again!