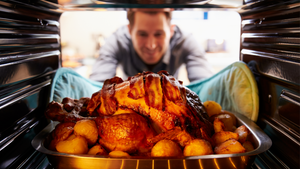 American holidays will never be complete without the anticipation for Thanksgiving. And yes, in just a few days, you'll be filling your tummies with delicious turkey while drinking wine and whatnot with friends and family. Excited like everyone else? Of course, you are! 
But, if you're the host, a lot of work has to be done to make Thanksgiving happen every year. You'll need to prepare yourself mentally and physically for the challenges of planning, shopping, cooking and cleaning the house for your guests, and believe me when I say that it'll be stressful.
So, are you ready for a secret? A little preparation can shake all the stress away. We scoured the internet for tips and made the checklists below for you to have a nice Thanksgiving holiday.
Game Plan BEFORE Thanksgiving Dinner
When it comes to Thanksgiving cleaning, preparing for the holiday is more intense than the aftermath. You have to get your home ready to welcome guests, while preparing the sumptuous meals that you will serve. The list below will guide you through your Thanksgiving preparations:
Organize your kitchen so that it's ready for the massive amount of cooking. Make sure there's ample room in your fridge for all your ingredients, and of course, for leftovers thereafter.
Wash your holiday-specific serving dishes and platters, and other large cookware items, especially if they haven't been used for a while.
Tidy guest rooms in case you have visitors who will be staying over. Freshen up mattress covers and beddings.
Stock up on toilet papers, tissues, hand soap and towels. Of course, clean all the bathrooms. Tackle the toilet and sink, and wipe down the mirror and buff bathroom hardware.
Prior to guest arrivals, dust and vacuum your living and dining areas. Ensure there are enough seats for guests by setting out extra chairs. Clean your windows and blinds for an uninterrupted view outside.
Wipe down your dining room table and if your dishes are ready, you can go ahead and set the table.
Clear out space for friends and family to have a place to store coat and other belongings, and keep the rooms you haven't had a chance to clean locked if you don't want anyone to enter them.
First impression always lasts. Sweep your porch and foyer before guests arrive. Blow the leaves off your driveway and sidewalk so that the first thing your guests see is a clean, welcoming pathway and your festive fall decorations.
Clean-up AFTER Thanksgiving Party
Cleaning up after the dinner is easier than the preparation. Still, it's no fun. The key to getting everything done quickly is to streamline your process, and of course, asking for a little help. So, here's a checklist of tasks you and your helpers will need to take on after that fulfilling Thanksgiving dinner party:
Pack leftovers into food-storage bins and offer some to your guests.
Clear the dining table of all the dinnerware and stuff, and wash the dishes.
Spot clean the walls, tables, countertops, carpets, upholstery and other areas with visible stains or spillage.
Sanitize fixtures and surfaces in the bathroom and kitchen, as these are the frequently visited areas during the party.
Take out trash, declutter and organize all the rooms in the house.
Thanksgiving is supposed to be a time we're grateful for everything that's going on in our lives. It shouldn't be a source of stress. Just take note of the tips above, and you'll be thanking us in no time.