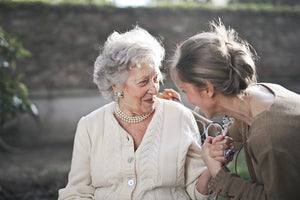 Reaching the senior year is not usually where life ends. But one might start to have limited mobility due to illness or as a sign of age taking its toll because of an unhealthy lifestyle back in the younger years. But it doesn't mean one must completely stop moving and doing his/her daily routine (Except when he/she really is not capable anymore)
There are light cleaning routines that are suitable for the elders especially those who don't have people that will assist them 24/7 and those who now have brittle bones and limited movement. Check these tips below about how to clean your home while remaining safe now that you are in your golden years:
Lola Wowables™ is a towel that's made efficient, reusable, and eco-friendly. It is the perfect alternative for the regular paper towel when cleaning, cooking, and doing other tasks. It is designed using durable and delicate material so it won't easily scratch or damage every surface or furniture that it comes into contact with.
Meanwhile, dusting is an essential task that must be done regularly. However, it poses a risk of causing allergies or triggering respiratory problems especially to people whose immunity are weaker because they are more vulnerable. That's why if they have no choice but to do it by themselves, it is important to always wear protective equipment such as gloves, face mask, and eye shield to keep themselves safe all the time. We also advise them to use our Swiffer® Duster Compatible which is a refillable tool that's effective in collecting dirt and dust on crevices and narrow spaces to make sure the job will be done in no time. It is made with a long handle so they don't have to bend over or tip toe as that may increase their chance of getting into an accident.
Lola Rola Sticky Mop™ has a flexible and sticky head so it can clean hard-to-reach areas, narrow gaps, and crevices. It also has a long handle that will help in reaching highly elevated surfaces such as top of tall furniture, window and door frames, and ceiling.
While in terms of dishwashing, we also didn't forget to keep in mind the welfare of our grandfathers and grandfathers who will be using our products. Using our Pot Brite™ Scour N' Sponge will save their hands from tough scrubbing because this 2-in-1 dishwashing tool has a sponge and scourer sides that effortlessly removes dirt, oil, and grease.
Everyone deserves to spend their senior year with comfort and relaxation after years of hard work. But we have to accept that are things that we cannot avoid doing even when we are old. Unfortunately, cleaning is one of these. There are some who have their families to help or do it for them while there are others who don't have anyone or just don't have to spend all their vacant time sitting. Now, the best thing that we could do for the latter is to make cleaning easier and more convenient for them.