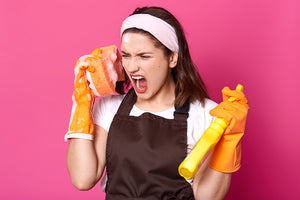 Traditionally, mothers are the busiest person in a household. But today, distribution of tasks within the family is now being widely practiced. However, majority of the responsibility still falls into the shoulder of the family's matriarch. As much as we want this culture to end, it would be very difficult as it will require a huge change on the behavior and mindset of many of us.
For now, the best thing that we could do is to help them find ways on how it would be easier for them to do these daily tasks. So here are some tips, on how both mothers and mothers at heart can keep their cleaning effective but less stressing.
IMPROVISE YOUR OWN CLEANING SCHEDULE
For mothers, having cleaning schedule will be vital in staying organized and focused on their most important cleaning goals. Not only will this serve as a guide so they can stick to their priorities and keep track of their progress but also for them to allot time for rest and leisure. In making a cleaning schedule, all that's needed is to simply list all basic tasks that are aimed to be completed on a weekly basis before assigning them to a certain day of the week. Doing this will save them from cramming and forcing themselves to finish every task in a day. Instead, they can just focus each day on one or two tasks then the rest of the day is theirs to spend.
It's up to them if they'll clean their home's walls, the ceiling, and furniture on different days. As long as they'll use our Lola Rola Sticky Mop™ which is perfect for removing dust and dirt stuck on different surfaces.
DECLUTTER AND LET GO OF EXCESS BELONGINGS
Whether we admit it or not, one of the major reasons why it is so hard to clean up our homes is commonly due to the pile up of unused belongings. We understand how hard it is to let go of something that you have kept for years but now that they already have no actual purpose anymore, then it's time to throw away (completely useless), sell or donate (decent) the things that are not useful for your anymore. Just make sure that you have Lola Wowables™ in hand when you start to move these things so you can wipe off the dirt they left behind on your desks, drawers, shelves, and cupboard.
TEAM UP WITH THE KIDS
To mommies out there, there's nothing wrong if you ask for some help with the other people in your household. This is also another way of getting the job done and making sure it will be accomplished without requiring you to exhaust all of your energy. After all, cleaning is not the only thing that have to do all day. So perhaps you can ask the kids to assist you with simple tasks such as sweeping your living room with Lola Large Angle Broom  or Mopping the dining area with Lola Pro Amazin™ Scrubber Roller Mop or Flexible Dust Mop.
SPEND SOME MINUTES TO TIDY UP EACH EVENING
It would be helpful in making cleaning tasks lighter and easier if you would be practical by dealing with any residual clutter around the house before bed time. It can be as simple as putting away dishes that were left drying on the counter, throwing or keeping away papers laying around, or putting away toys left under the couch.
If you feel that there's too much stuff around, you can grab a laundry basket so you can pick up anything that doesn't belong to where they are. You can set up a time limit so you won't find yourself spending too much time keeping things organized. After tidying up, you can now spend some time to relax for the rest of the evening without being surrounded by an annoying bunch of clutter.