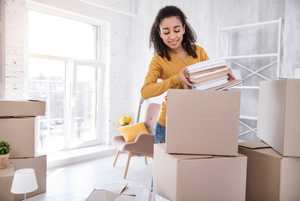 Cleaning before completely moving out is not just to show decency and respect for the next people who will be moving in, it is also a way to ensure that you will be getting your rental deposit back in full.
So don't forget to check if there's any room still in need of cleaning. Hiring a cleaning service is not necessary to get the job done. All you need are some effective tools and good music and you're ready to clean your condo or apartment. 
Don't worry because we are here to assist. This complete apartment move-out cleaning checklist has everything you need to deep-clean your space before moving to a new place. Let's get cleaning first!
Eliminate Cobwebs from Ceiling
You may have forgotten this for a long-time but pulling down cobwebs should be one of your top priorities before moving out. You can use Lola Rola Sticky Mop™ to easily and quickly pick up dust and cobwebs. You'll have no trouble because this cleaning tool has a long extendable arm and its mop head is armed with easy-to-tear sheets which effectively collect debris. After it has been filled, you can rip it off and dispose of it while another sheet is exposed and ready to clean.
Remove Dust from Blinds
No need to use wet rugs which will only contaminate blinds even further with germs. Our 360° Duster Extender Set tool is designed to perform much better than traditional feather dusters. It has a microfiber head to reach deep through the window blinds collecting even the smallest loose particles. It also has an extendable handle in case your windows are wide and large and you need to reach out a bit.
Wipe Clean Windows
A window or glass solution is good when cleaning your windows. But without good cloth that you can use when wiping, the tendency is there will be dirt left behind or your windows will be filled with lint or streaks. You can avoid all these with Wowables™ Cleaning Towel. This paper towel alternative is made durable and gentle so it won't cause even a slight scratch. With this cloth, thoroughly dusting off handles, locks, and between the sliding tracks of your windows will be a piece of cake.
Inspect Lights
Lighting is one essential aspect of any house. Even after your turn of using them, you should still find time to check all lightbulbs and immediately replace any bulbs that have gone out. You must also sanitize light switches. You can easily do so with the help of our Anti-microbial Clean N' Wipe™ Cloth. This cleaning cloth is treated with agents that prevent the growth of bacteria, making it perfect for common areas such as light switches. You can also use it to clean fixtures as well as the actual lightbulbs.
Clean Walls and Baseboards
With Jumbo Microfiber Cloth, you could remove any debris stuck on your baseboards. When combined with the appropriate cleaning solution, this works for stains on walls too. Its composition is engineered for deep cleaning so even the toughest dirt stuck on gaps and crevices will be removed. 
Now you can move on with relief knowing there will be no complaints because you did extra to ensure that the place you leave behind can be the perfect 'home' for the next tenants.