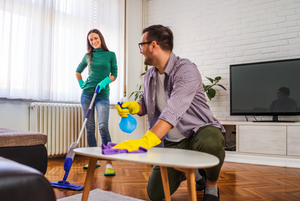 Let's say you just moved into your new house and it's your first time to leave together as a couple. It would be a huge responsibility because now you are on your own and you have to take care of everything. Don't worry about unpacking because it is just the start of it all, what you both must think about are the following days, weeks, and months.
Chances are, you still need to develop a cleaning routine together to keep your new home neat, comfy, and presentable. Before you finally adapt and be able to create a regular cleaning pattern and schedule, check out these tips where you can begin:
Start from Top to Bottom
Cleaning randomly and without any organization is a bad idea. It is inefficient and will only exhaust you and make you more reluctant of cleaning your home by yourself next time. The wise thing to do is to start cleaning the highest parts of the room such as the ceiling and the floors. This makes leftover dust fall on the floor. Doing otherwise will only waste your time and effort because when you start from the bottom, it will only get dirty again later on.
What tool can help you reach out dirt, dust, and debris in these high places? Try Lola Rola Sticky Mop™! A new and extraordinary tool with an extendable handle and some sticky cleaning sheets to collect anything that you want to put in the trash. Imagine how fast you and your partner can clean your entire house with a very efficient tool.
If you still have some leftover dust on the floor, then deal with it with our Angle Broom which is designed to reach even the narrowest corners. Keeping up with the tips above will make this a very light task which you can do weekly or depend on if you have some extra time.
Clean One Room at a Time
Do not think that the two of you can clean an entire house (average size) in a day–-At least not thoroughly. Just the thought of it is already tiring enough. So better not pressure yourself.
You are free to schedule when you will deal with your living room, bedroom, and other rooms. This is an efficient strategy to be organized and to avoid being overwhelmed. 
You can start by wiping and dusting furniture along with everything that you put in them. Wowables™ is a multi-purpose cleaning cloth made durable and suitable for different surfaces such as wood, tile, or stainless steel. Meanwhile, you can count on our 360° Duster Extender Set to remove dirt and cobweb on your cabinets and drawers.
Be extra Thorough with your Fridge and Dining Area
You can end the day without touching all other rooms but leaving your dining area and fridge unclean is such a hassle. Soon enough your stomachs will be crumbling and you'll be rummaging around trying to prepare food. The sight of a mess is unappetizing.
So don't forget to put your fridge and dining area on your priority list. Make sure you wipe every surface of your dining table and your fridge interior with separate sheets of Cellulose Sponge Cloths. This is treated with anti-microbial agents which hate germs and are designed to diffuse as well as absorb not only moisture but also cleaning solution.
It should be enough after you finish cleaning these two areas, you can unpack your entire kitchen later on.
After all, these and you still have some energy, perhaps you can check your bathroom and sink too. They are essentials too because one way or another, you will have to use them within the day.