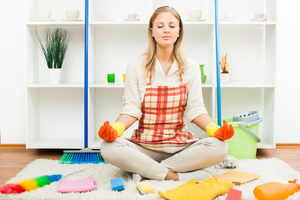 Aside from exercise, there are also some daily activities that help us preserve our well-being.
One suitable example is cleaning; It is a good opportunity for us to work our bodies out as we move and work around our house. Using innovative tools can help us achieve extra benefits.
Here are some summer cleaning routine that you can practice while cleaning to give yourself a boost and support your healthy lifestyle.
Bend and stretch
A couple more movements when cleaning won't hurt. It can even be beneficial for your well-being. It doesn't have to be as intense as when you actually workout. It can be as simple as stretching and bending while wiping surfaces with Wowables™.
When looking and cleaning under pieces of furniture, you flex your back, hips, and knees, improving flexibility and practices your joints so they won't get brittle overtime. It saves you from a great deal of pain later on when you get older plus you don't have to worry about dust and dirt filling up your home.
Reach and Tip Toe
Meanwhile, reaching high areas within your home promotes muscle and bone strength. By using our Lola Rola Sticky Mop™ in cleaning walls, ceiling and top of furniture pieces, you will not only get rid of cobwebs and debris but also weak posture while strengthening your muscles and bones.
Doing these kind of activities also practices your sense of balance helping you become more agile. This also gives your leg muscles regular exercise. So why skip leg day when you can complement your workout with cleaning? `
Run and Flex
Do you think jogging or using skip rope too is much for you?  Why not try going back in forth at home while cleaning your floor with Lola Flexible Dust Mop. You can try increasing your speed as over time. Eventually, it can result to improving not only the flexibility of your arms and legs but it also gives you cardio exercise especially when you go faster.
This tool has a wide mop head so rest assured that your floor surfaces at home will be cleaned from dirt, stains, and all other impurities. When done frequently, this might even become not only an effective cleaning task but also an easy and quick calorie-burning activity.
Squeeze
Who said improving grip and hand strength can only be achieved using gym tools? On the contrary, using Lola Pot Brite™ Scour N' Sponge constantly can give similar effects. The sponge may be soft but if you make it a habit to squeeze it from time to time while washing the dishes, you help yourself prevent numbness and practice having greater control and improved coordination with your hands and fingers. 
With all these activities and with the help of our cleaning equipment recommendations, you can hit two birds with one stone, not only can you ensure that your cleaning will be productive, but you will also fulfill your physical exercise requirements.