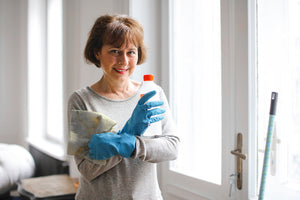 Imagine going home after a tiring workday only to find it as a big mess with all sorts of dirt and filth all-around. Don't you wish it will all go away in just a snap of a finger? Sad to say, we don't teach that kind of magic here. However, we will be giving a set of tips that will get you the same results. Read them below:
Retire from Using Makeshift Rugs! They Are Not Practical and They Easily Get Dirty.
The finish line for most hand-me-downs is either being torn to pieces until they aren't usable anymore or being used as makeshift rugs for doing some household tasks. There are also people who think that using shirts and dresses that they don't wear anymore as cleaning cloths is more practical because they don't have to spend for brand new cleaning tools anymore.
But little did they know, these pieces of clothing do more damage than good. You think they are effective to wipe off dirt or dust on surfaces around your home? That's where you are wrong. These aren't made to be used for cleaning, so they are not treated with cleaning agents. This means they can easily harbor bacteria and germs and those can be easily spread on other parts of your home. Plus, they can easily break down and leave microscopic pieces which can become allergens.
Even their composition is not also suitable for cleaning and they can do damage on certain types of surfaces when not used carefully. Unlike Lola Wowables™ which is designed for efficient surface cleaning. It is also engineered to be durable and reusable so you can make the most out of it after buying it with your hard-earned money.
Think out of the box. Learn new innovations that you can use in cleaning!
This is not just about buying high-end machines to get the job done. It can also be about finding basic tools that are made to be more ergonomic. Take our Lola Rola Sticky Mop™ for example. Who would have imagined that the common mop that we used to equip to clean floors have so much potential that it can now be used to clean walls and even the ceiling! This is through its adhesive mop head that can easily collect even the slightest dirt.
It is also made with a durable steel handle which won't fail you even in the toughest cleaning tasks. Another good thing about it is it is refillable! That means you just have to buy a replacement for its adhesive mop when your supply runs out and you can use the whole thing again without buying a new one!
Widen your field of view when cleaning. Don't miss out!
Sometimes, the toughest dirt build-up is located on places that are hidden from sight. Say for example, inside drawers, cabinets or under other furniture. Dust can also get stuck between your window blinds. In these instances, we have two effective tool that we recommend to you. Our Large Angle Broom and Lola 360 Duster. With these two tools, both air and ground are covered. You can use them to reach crevices and narrow spaces for hidden debris.
These three steps are not hard to remember. They are not difficult to do either. As long as you have the right tools, there should be no problem. For maximum satisfaction, we recommend sticking to Lola's products because we assure you that they'll never fail in helping you do your tasks.