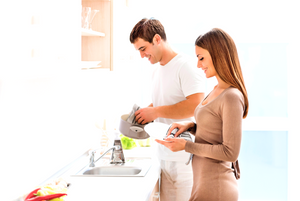 It can be a lot of fun to host a holiday celebration for friends and family, but it can also be very difficult. The holiday season will be much more memorable if you have the chance to provide guests with tasty cuisine, a cozy environment, and energizing drinks for one evening.
One must take into account the significant amount of work necessary to organize the entire event before choosing a date for a holiday gathering. The effort needed before, during, and after a party is one of the most underestimated components of hosting a party, aside from costs. Holiday dinners frequently result in a large number of dishes, which will keep the host working in the kitchen well after the guests have left and gone home to bed. Not fair at all, is it?
But good news! There are certain tricks you may use to cut down on dish duty at your upcoming holiday party.
Use effective sink management
A large-scale dish-washing operation will go more smoothly if your sink is kept spotless and uncluttered from stacks of dishes, utensils, and glassware. To ensure there is enough space to actually wash items, stack dirty pots, pans, and dishes next to the sink rather than in it. It will also assist to lessen the likelihood that something will get broken or damaged if you put things that need to be washed next to or close to the sink.
Use the appropriate sponges and scrubbers for the task
When washing dishes and cookware for special occasions, specialty sponges and scrubbers, chainmail scrubbers, and bottle brushes can be of great assistance. As part of your holiday dinner preparation, stock up on these dish aids as well as high-quality dish soap, extra dish towels, cozy dish gloves, and heavy-duty hand lotion so you have them on hand when you need them. It would also be efficient to keep a Lola® 2-Way Cleaning Sponge Pad on hand as it is a versatile dish scrubber.
Keep dish and paper towels available
Dish towels are essential, yet it's a mistake to ignore their significance. Think about how many dish towels you'll need (the Lola® All-Purpose Cloth would be a great choice), then multiply that amount by two so you have plenty on hand to spread out on a countertop to serve as a draining station and as well as towels for drying hand-washed things. 
Before washing, grease-covered serving ware and pans can be removed using the Reusable & Biodegradable Wowables® Paper Towels. They can also be used to dry pots and pans after washing that may have a little amount of greasy residue.
Follow a dishwashing sequence
There is an order to washing dishes, albeit you don't have to adhere to it exactly. Glassware, including crystal and glass plates, plates, flatware, and service pieces, serving dishes, and pots and pans should all be hand-washed in that order. 
Washing related items together is a smart idea no matter what order you wash them in. By washing smaller objects first, you free up space for larger, more uncomfortable pieces like roasting pans and greasy serving platters to be washed, dried, and stored.
Rescue scorched pots, sheet pans and baking dishes
Try this simple approach to quickly remove food that has been stuck to surfaces without the need for intense scrubbing. Place a generous amount of baking soda in the bottom of the pan, add a few inches of water, and heat it on the stovetop until it begins to boil. After that, turn off the heat and let the pan cool before giving it a hot, soapy water wash. Food that has been stuck on or burned will come off with very little scrubbing using a Lola® Pot Brite™ Heavy Duty Scrub Sponge.
Use a degreaser to clean baking utensils and sheet pans rather than elbow grease. First, remove food by scraping it off and/or rinsing it off. Next, lightly sprinkle an all-purpose cleaning spray on the sheet or pan's surface. While washing other objects, put the pan aside so the all-purpose cleaner has time to go under any grease or stuck-on messes. Lastly, wash as usual using hot water and soap.
Dry immediately
Ideally, you will ask someone to act as the designated dryer when it comes to washing a huge mess of holiday dishes. If there aren't any extra hands available to assist with the drying, wash and dry the dishes in batches, and the Lola® Jumbo Microfiber Cleaning Cloth might just be the help that you need for this task.
These are just a few easy actions you may take to reduce your dishload. Consider accepting assistance from individuals who offer to clean up in addition to these suggestions. A little can go a long way, reducing the amount of time spent in the kitchen while also providing a wonderful setting for engaging in worthwhile conversation.