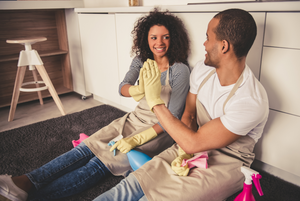 The so-called month of love is finally here, and Valentine's Day is just around the corner! By this time, you may have a few things already lined up. Whether you're flying solo, going out for a romantic dinner, enjoying some quality time with friends and family, or cozying up indoors for a low-key movie night, you have the opportunity to bring a little light and warmth into one of the coldest and darkest months of the year, and you're all set for a full day of love — all kinds of it. 
On this day, you should be able to enjoy your celebration, whatever that may be, with a clear mind and a clean house. Here are a few simple, effective ways to ensure your Valentine's Day is not only filled with lots of love but also becomes a day free from a cluttered and messy home. What could be even more romantic than that?
Dust Off and Tidy Up
The best way to kill the mood on Valentine's Day? A pile of mess and dusty clutter everywhere. Use the Lola® Swiffer® 360° Comparable Extender Duster to dust off visible dust and dirt around the house. Take some time to unload things you no longer need and declutter wherever you can. Not only will you feel relief, but it will take a major weight off your loved one's shoulders, too. Also, going over your house together, room by room, can be a fun-filled bonding activity. You'd realize that getting rid of items that no longer spark joy would actually result in finding more joy in your relationship.
Clean Your Stove-top and Kitchen Counters
Skipping dinner reservations and cooking a meal for your loved one screams romance — but sharing a lovely cooking experience together takes the top spot in a list of the most romantic Valentine's Day activities. Your stove-top and kitchen counters are the most commonly used kitchen surfaces so odds are they could use a good scrubbing, and the Lola® Rubaway™ Eraser Pads may just be what you need. Of course, to make cooking together a truly delightful experience, your kitchen has to be ready. After that pleasant cooking session and sumptuous dinner together, you'd be glad you did some cleaning beforehand.
Sweep Your Floors
Not only in preparation for Valentine's Day but sweeping the floors is an absolute must, especially with kids and pets around the house! With the Lola® 4-in-One Snap-in Cleaning Kit and Storage System, you can accomplish this task in no time, in turn, more quality time to spend with your loved one.
Spiff Up the Bathroom
If your partner has always been in-charge of cleaning the bathroom at home, why not surprise them by cleaning it for once? It's probably the most thoughtful gesture you could give! Treat your loved one like royalty by cleaning your bathroom throne. Wipe those shower walls with the Lola® All Purpose Scrubber and freshen up the mirror and bathroom counters. Get ready to receive a big hug for this surprise — especially if you successfully clean the hard-to-reach areas, which is not impossible with the Lola® Any Which Way™ Flexible Scrub Brush.
The bottom line is we all love love. And having a truly clean and functional home is just one of the simplest ways of showing our special someone how much we care about and love them.