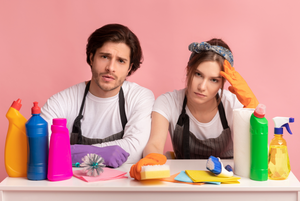 They say, the only thing constant in this world is change. Yes, change may be constant; but it's not the only one. No matter how much we clean them, our homes always find some way to get messy at some point. So I guess, a messy house is also constant in this world.
It being constant actually means some good news for you -- a messy house isn't entirely your fault! However, the bad news is that the mess is not gonna clean itself so you might as well put that pair of gloves on, gather those cleaning supplies, stop kidding yourself and start cleaning. If you're simply unsure where to start, this step-by-step guide might just be what you need.
Set aside a schedule for house cleaning and make a routine out of it. House cleaning requires commitment and setting aside a day when you can be free for a few hours to tackle your messy home is the first step. Make sure that you have no other plans on your committed schedule and that you have all of the cleaning suppliesready and available. Make a routine out of this so you can move from one task to the next without wasting time thinking about what you have to do next.
Start with tasks that can be left on their own while you do other cleaning chores. You can start a load of laundry, spray your cleaner on the counters and appliances before wiping them with the Reusable & Biodegradable Wowables® Paper Towels, run the dishwasher, or pour bleach into your toilet. You can just leave these tasks by themselves while you deal with the other messy parts of your home. Just don't forget to finish them up, of course!
Tidy first, then clean afterward. It will be much easier to clean if you don't have a bunch of junk in your way. Take some time to organize and put away everything where they belong. The best order for your home mess cleaning is still removing clutter and tidying before you get your hands dirty. As needed, throw away any of your stuff that may have already run its course. In other words, don't hoard!
Clean top to bottom, then left to right. Whatever's up there must come down first. Use Lola® Swiffer® 360° Comparable Extender Dusterto remove cobwebs from your ceilings and upper moldings before mopping your floors with the SqueezeMatic™ Butterfly Sponge Mop. Doing this the other way around is the easiest way to tire yourself. So, best to befriend gravity and don't go against it. Then, cleaning left to right ensures that you cover the entire room instead of darting from place to place.
Cleaning a messy home is never gonna be anyone's favorite. It's a task too daunting that we often neglect until we can no longer ignore the eyesore. Good for you, there are ways to cut down your cleaning time, like by taking on the various cleaning tasks one step at a time, and doing them more often. And when you're done cleaning all the mess, you can finally get that well-deserved rest.