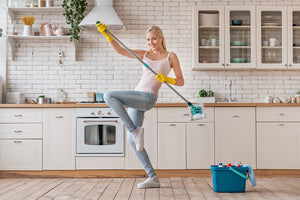 Spring is a new beginning for all of us. After being kept at home by the chills of winter, it's finally time for us to be free and do all the things we missed doing. But it also reminds us of the important tasks such as cleaning which we may be setting aside often. But it is not too late to realize what truly matters. So, we're here to discuss some of these because it's finally time to look into them and do something with our routine. Included below are some cleaning tips that will work conveniently for any of you who takes spring cleaning seriously.
Clean your shower curtain and liner
When cleaning the bathroom, commonly, people only focus on the tiles and the tub. So, maybe at the start of spring cleaning, you may want to wash off those shower curtains, too. They should be laundered if possible or replaced if the liner is riddled with mold. You can also wash them with a disinfectant if you want. Majority of shower curtains can be cleaned in a normal gentle cycle of your washing machine, so it won't be so hard to do it.
Wipe out dirt and dust from your lampshades
Aside from vacuuming, using Lola Jumbo Microfiber Cloth is a good way to make your lampshade clean. You might want to include cleaning all your lampshades at home this spring cleaning, to make sure they will be well lit again, without the dust and dirt buildup getting into the way.
Wash or dry clean your curtains
When was the last time your curtains got a thorough cleaning? This might be a good time to launder or dry clean your curtains when you're doing a top-to-bottom cleaning of your home. This is after the unnoticed dust build up through the years. It might trigger allergies but it also warms up the rooms especially when the sun is well up. 
Scrub your stove
After all the delicious saucy dishes that spilled and splattered around your stove, it is time to freshen it up. Unlike ovens where an automatic cleaning cycle can be run, stoves need some scrubbing and wiping. Lola has a variety of scrubbers you can choose from depending on the type of stove and the severity of stains. Lola Wowables can also be effectively use as a multipurpose cloth because not only can it be used in wiping but also as a pot holder to keep your hands from extreme temperature.
Vacuum and mop under your major appliances and furniture
We may have taken a few swipes at our appliances and furniture at home, but chances are we are only able to clean their main surfaces but not the hidden corners and crevices which might have accumulated lots of dirt and dust already. So, it is essential to constantly check your TV, Fridge, cabinets and drawers. Use our Lola 360° Extender Duster to collect all the dirt on narrow spaces or high areas. Do not forget to wipe the base of your toilet with Lola Antimicrobial Cloth, coupled with a disinfectant spray, as well as wash your shower head and hoses to make sure that only fresh, clean water will flow through them this spring.