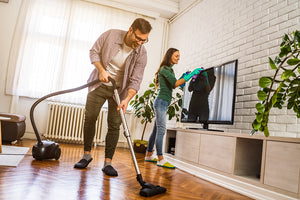 With all that's happened around the country lately (and for many people it's not just recently), most families are working with very tight budgets.
Not having enough money is a common reason people use when discussing why they are finding it hard to keep their home clean. Luckily with Lola, it is not required to spend lavishly on expensive cleaning tools and materials.
Make the change from disposable to reusable – It's crazy how people love the 'convenience' of single-use cleaning items such as paper towels. What the masses are beginning to realize is that there are reusable alternatives such as Wowables®, that are just as convenient as standard paper towels. Its' benefits go beyond saving you money because it's not only long lasting, it's versatile and can be used on almost any surface. 
Practice Using Multi-Purpose Cleaning Equipment – Again, why settle for a product that is limited to only one use when Lola is here to provide you with multipurpose tools such as the Lola Rola Sticky Mop for thorough floor and furniture cleaning or the Pot Brite™ Heavy Duty Scrub Sponge that can be used on sinks and utensils alike. 
Have a 'Refillable' mindset – Using common sense is a major part of being practical. If you still patronize brands that give you products that have low durability, then you are essentially throwing your money away. Take the Lola Swiffer® 360° Duster Compatible Refills for example. It is made with the idea that there will be constant build-up of dust and dirt at your home even with thorough cleaning. So, it is important that you have something that will accompany you in your regular cleaning routine. A cleaning tool that doesn't need to be disposed of but can rather be reused with refills will save you a ton of cash.
Buy a "set" of cleaning tools– If given the chance, consider buying a cleaning kit rather than purchasing random individual cleaning tools that come separately. A perfect example is the Lola Mop and Broom "4-in-1" Snap-in Cleaning Kit that has four interchangeable heads, a 4-piece handle and its own storage rack. It's like buying four different products - 2 brooms, 1 mop, and 1 duster - for the amazingly low price of one. An added bonus is that it also saves space and provides its own storage.