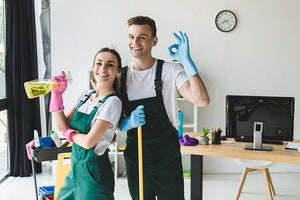 Storms, earthquakes, fire, and other different types of catastrophes not only leaves people with fear and anxiety but also with mess. A LOT OF IT. Cleaning after disasters is twice the burden because apart from the physical efforts required by it, it will also put the persons' mental capacity into a test while seeing the damages and the devastation brought by the disaster.
Still, we must move on. A part of it is picking up the pieces and putting them back together while the other part is throwing away the things that are of no use anymore.
Natural disasters are inevitable and sometimes unexpected. Nevertheless, wherever you are right now, want you to know that we are here to help you overcome this
With Lola Cleaning products, cleaning would be easier and faster for you so you can focus on moving on and completely recovering. Here are some tips on how to use them during dark times.
Sticky Mop – This multipurpose mop is a very reliable cleaning equipment especially when you are going through a rough time. Its adhesive mop head will effortlessly pick up any type of dust, dirt, and debris in your home after a rain shower, sand storm or ash fall. We know a vacuum might sound handy in these instances. But, Lola's Sticky mop is the only quick and easy to use too that produces no noise that will add up to the stress, needs no electricity and accumulates no extra costs which is very practical because you might need funds for repairs. You just tear the sheet when it is full then you can use the mop again to clean and sweep your floors and walls! 
Wowables™ – After heavy rains, strong wind gusts and flash floods, it is rarely that you will not need to do a lot of wiping. In order to dry your belongings, clear your windows and mirrors and remove stains from tables, walls, and floors, you will need an effective cleaning cloth to help you finish the job. Luckily, this reusable cleaning cloth is perfect for that. Treated with anti-microbial agents, this tough tool is ready to fight any type of filth head on!
Deck Scrub Brush – Do you have a pile of fallen leaves in your garden or backyard? How about dust or dirt build-up that a simple broom cannot remove? Our Deck Floor Brush is the answer to what you are looking for! Comes with durable bristles that will carry twigs, sticks, and even stones. Now you will be better equipped against what Mother Nature throws at you.
360° Extender Duster Set – Wondering how you fight against webs or dust build-up, during a power blackout. Lola 360° Extender Duster Set is here for you! With its extendable handle, you will not find it hard to reach and clean deep corners or narrow gaps anymore! Meanwhile, its replaceable head is convenient and makes it reusable. So you do not have to buy for a new one too soon while dealing with difficult circumstances.
Cleaning after a disaster should not be so hard. Suffering from a calamity is more than enough. So do not make it too hard for yourself. Choose the right equipment when cleaning your home. You will not only have something to use as distraction from the problem, but it might even help fasten your recovery.