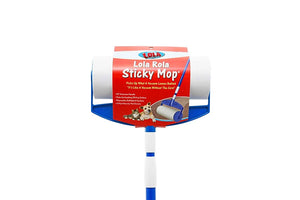 Have you heard of a multipurpose mop that works not only on cleaning floors but also other areas within the house? Yes, it will be weird to use the usual mop on  furniture because they are made specifically for cleaning your home's floors. But the Lola Rola Sticky Mop® is unlike any other as it was made with a 9-inch wide giant adhesive roller that can gather all types of dust and dirt on tile, carpets, rugs as well as other hard surfaces.
It is also effective for different types of debris, hair and other particles. Plus, it has a refillable head so before you run out, make sure you grab either a single Sticky Mop Refill or the 6 pack case of Sticky Mop Refills, which offers great savings! It also comes in 2 versions: The Lola Rola Sticky Mop with Extender Handle and the Lola Rola Sticky Mop with 4 piece handle, making it easy to store. If you don't already own a Lola Rola Sticky Mop, but you have pets then it's a "must have".
Pet fur: If you have pets at home that sheds their fur from time to time,the Lola Rola Sticky Mop® is a must have. Its sticky ends will collect hair from the floor, from the couch, and from different furniture so you will be saved from the stress of having to clean it by hand.