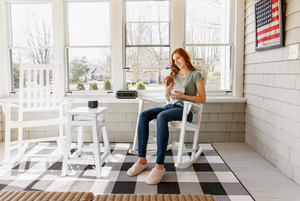 Throughout the year, your patio might be your favorite spot at home, except during winter (of course, for obvious reasons). It is where you usually make the most out of those beautiful Spring mornings, warm Summer days, and cozy Fall afternoon breeze. And enclosing it with a screen to protect you and your guests from bugs, pollens, debris, and whatnot makes it the perfect space to enjoy the outdoors.
Even with the changing seasons, your screened-in porch remains to be a fixed home space where you can relax, gaze across your lawn, look up at the sky, and see the beauty of life. In a perfect world, your view will never be blocked by dirty spots. But in reality, the ambiance created by your relaxing patio is sometimes shattered by unsightly spots of dirt, debris, and other pollutants that have attached themselves to your porch screens.
But worry no more! You can give your outdoor living space enclosure that sparkling clean look in just an afternoon with these easy-to-do porch screen cleaning tips.
Vacuum up Dust
Using a vacuum cleaner works well if you live in a dry, arid climate that produces lots of dust. Apply the brush head attachment to your vacuum cleaner hose, and gently rub it along the screens. Keep in mind that your porch screen would tear if you applied too much pressure. You may consider using the Lola® 100% Natural Corn Broom to whisk away those small dust and dirt particles before vacuuming up.
Use Spray-on Cleaner
More often than not, using a vacuum cleaner is usually enough to rid your porch screens of dirt and dust. But if your screens are more grimy than dusty, consider using a multi-purpose spray-on cleaner. Simply spray the solution on the screens and use a brush or soft all-purpose scrubber like the Lola® All Purpose Scrubber to wipe the grime away. 
Spray with Garden Hose
Provided your screens are not heavily stained, moldy, or excessively dirty, using a water hose should be enough to dislodge grime and dirt. Bring a garden hose into the porch and spray outward. But remember, you may need to have an understanding of how to tweak your hose nozzle to know the perfect distance that is safe enough not to tear the screens apart. Once visible grime and dirt have been removed, you use a Lola® Jumbo Microfiber Cleaning Cloth to dry them off.
Brush with Soapy Water
When you can no longer see through your porch screens, it might be the right time to clean them thoroughly with a brush and soapy water. This may require the most effort but will work best for extremely dirty screens. Get a bucket filled with water, add squirts of your tried-and-tested dish soap, and mix them up to create soapsuds. Dip a soft-bristled brush, like the Eco Clean™ Bamboo Scrub Brush, into the soapy water and gently scrub the screens. 
Seasons will change, people will come and go, and so will the chunks of the dirt and dust on your porch screens. You should make it a habit to regularly clean them so you can be sure of something that will stay in your life for good -- a sparkling clean screened-in patio.