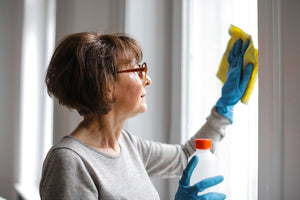 We'll just leave it to history, to tell you the story behind the use of cloth in cleaning. What's important is that up until now, they remain as one of the tools we can always rely on when it comes to fighting off germs and keeping our homes safe.
In line with that, what we're going to discuss right now are the different types of Lola cleaning cloths, their materials and uses.
Made of: Wood Pulp and Unbleached non-GMO Cotton. So, rest assured that this is an all-natural cleaning tool that's free from dangerous chemicals unlike in other brands which uses synthetics.
Special Feature: Dry-Tek technology – fast drying and helps prevent the growth of odor causing bacteria.
Best used for: Lola Wowables™ is basically a natural, all-around cleaning tool that can be used as an alternative to paper towels. It is free of dangerous chemicals so it is safe and reusable. It is also very effective due to its excellent absorbing power. You can use it to clean the floor, the door, the windows, your furniture, and your whole kitchen. It can also be used to clean and remove paint and other types of stains! But not only that, it is also useful in food preparations; dry fresh fruits and vegetables using it after washing them and you'll see not even a bit of damage.
Cellulose Sponge Cloths (AKA Swedish Cloth)
Made of: Natural Cellulose (biodegradable and super absorbent)
Best used for: This eco-friendly cleaning cloth is also effective to be used all around the house, especially in absorbing moisture and removing dirt. It's preferable when you want to ensure that your kitchen and bathroom are sparkly clean. You can also count on it in vehicle or boat cleaning!
Anti-Microbial Clean n' Wipe™ Cloths
Made of: Non-Woven Rayon/Polyester Blend
Best used for: This one is great for dishwashing because compared to all of Lola's Cleaning Cloths, this one is specifically made to prevent most bacteria, mold, mildew and fungi from growing on it. So, rest assured that it will do its job every time you use it. It is treated with antimicrobial agents that will keep you and your family safe from food contamination. But it doesn't end there because just like other Lola cleaning cloths, it is also versatile making it useable on different cleaning tasks and in all parts of the house with different surfaces.
Swiffer® Sweeper® Compatible Dry Sweeping Cloth
Special Feature: Refillable (attachable to mops)
Best used for:  This is a mop attachment that works on floors no matter its type. It is designed to be effective in collecting dirt, dust, and hair even without the help of chemicals. This is perfect for pet lovers and meticulous home cleaners that don't want any chemical residue left after they clean.
Made of: Cotton
Special Feature: Lint-free
Best used for:  Lint is a common problem on many ordinary cleaning cloths. But, Lola's cleaning cloths such as this one is 100% lint-free! So, rest assured that you can dry kitchenware after washing them or pieces of furniture after wiping them without worrying about annoying lint being left before turning into asthmagens.
Special Feature: Microfiber Technology
Best used for: Due to its delicate composition, this tool is good for cleaning, drying, and dusting sensitive surfaces. So you don't have to worry about scratching glass furniture, precious vases, or your beloved mirrors because this cleaning equipment is created by us to become a solid proof of how much we care for our customers and the cleanliness of their home.
Made of: Cotton
Best used for: This is one of our cloths which can be used not only for household tasks but also in cooking and preparing food. This one offers its covering and straining capabilities in poultry and dairy tasks. It is also useful in polishing cars. So, you can easily grab one in case. It is more effective, cheaper, and more eco-friendly than most cleaning tools and chemical agents. You'll surely regret nothing!