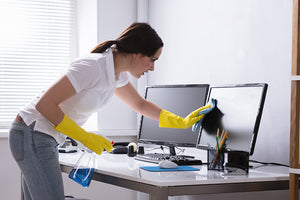 It is known that gadgets such as mobile phones are among the dirtiest things on earth because of how frequent we hold on to them with our bare hands. Yet, it is the least cleaned possession that humans have. Unknowingly, it is where we pick up a lot of diseases and easily spread it in everything else that we touch or hold into.
With that in mind, here's an alternative; becoming more creative and knowledgeable of the things that what we can use to clean them properly. To help you further, let us discuss some tips on how to clean your devices using not expensive cleaning tools but daily household cleaning materials.
Sponges are not only for bottles, jars or dishes. As some of these products are made versatile so there's no stopping you from using them to absorb spills and stains on your electronic equipment. With it, you could make sure that your phone is dry and free from any dirt. Just like Lola The Original Kitchen Sponge Puff Bottle Cleaner™ which is soft and good for gentle cleaning. Meanwhile, Lola Pot Brite Scrub Sponge and Pro Sudser Sponge Brush are both made as multi-purpose so it could also be used (dry) on many gadgets and even game consoles.
Dusters are also useful in a lot of ways. It can used to clean corners, gaps and pieces of furniture such as cabinets, glass shelves, mirrors and even the interior of your car. But what you don't realize is that it also functions as an effective cleaner for printers, computers, laptops, and other electronics. See for example Lola Jumbo Microfiber Cleaning Cloth which has soft fibers that effectively picks-up dust.
Meanwhile, paper towels are such as Lola Reusable Anti-Microbial Clean N' Wipe™ Cloth and Wowables are made to pick up dirt and dust and wipe off stains. Note that before using these, you should first determine whether they are compatible with your device's sensitivity. Know that electric gadgets may be prone to short circuit when not handled properly.
Another alternative is the use of Lola Swiffer® Sweeper® Compatible Dry Sweeping Cloths which are textured to trap dirt, dust, and hair without leaving any chemical residue. It is also a good product to wipe your gadget with. It's dry and surely safe for your electric devices, so no worries!
Lola Rola Sticky Mop may also come in handy. If you have large electric equipment such as speakers, amplifiers, and screens which constantly gives you problem with dust, thread, fur, etc. Then you can use it to collect and properly dispose all of those. This helps to make sure nothing's stuck on your things for them to working perfectly fine.
There are a lot of things around you that can be used in plenty of purposes. Not because they are made for one specific objective doesn't mean that it's the only thing that they can do. You don't need to buy all sorts of stuff for maintaining your gadgets. You might just not know it but you may already have what you need to clean your electronic devices. Sometimes you just have to look closer and think creatively.