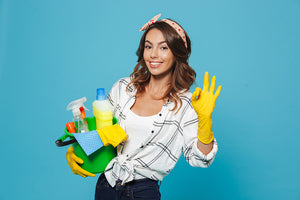 When we hear the word refillable, water bottles and containers are what commonly and instantly comes to mind. But there are so many other things that we can consider as refillable since people are good at finding ways to save and utilize things.
Think about it like this, buying a replacement part for your bicycle or car which is more affordable than purchasing a brand new one, right? This is also possible and being widely practiced when it comes to cleaning tools! Through it we promote practicality and cost-efficiency because we get to keep the important part and just purchase a replacement for its cleaning end. In short, we pay for the price of a single part instead of buying the whole product again!
Lola also believes that it is better to just replace a part that don't function anymore and keep the entire tool than to throw away everything because that's just a complete waste of materials. But we understand that not everything can be separated into individual parts especially most common cleaning tools.
 So, our solution is to re-invent and create cleaning tools with removable cleaning parts, so the owner can keep the handles for as long as they still do not need replacements. We also built our products to be extra durable so our customers can really expect them to last long.
Here are some of Lola's refillable cleaning tools:
360° Extender Duster Set – Time to put down your feather duster because we have an even better dusting tool right here for you! The Lola 360° Extender Duster Set is an all-around duster which you can use at home or in the office to clean furniture, lamp shades, blinds, TVs, computers, other electronics, and even walls!
Lola Rola Sticky Mop™ – The typical mop is for the floor, but our Sticky Mop can be used whenever cleaning is needed! Web on the ceiling? Dust on walls, corners, or under a big furniture? Lola's Sticky Mop got it all! You just have to tear and throw away the cleaning sheet when it gets filled with filth and you can use it again. You can just refresh the sheets on its mopping head when your supply runs out.
Lola Pro Sudser Sponge Brush – This light duty scrubbing fiber sponge is super absorbent and gentle on surfaces! It also has a feature that holds and dispenses cleaning liquid to make dishwashing easier and more convenient for you! This is very affordable and cost-efficient because you just can keep the handle and replace the sponge when it gets too dirty or worn out due to months of use.
SqueezeMatic™ Sponge Mop – This mop absorbs moisture and removes stains in no time! It is useful for different types of hard surfaces such as tile and linoleum. Its mop head is engineered to be easily replaced.
Revolution™ Spin Mop – This mop does not leave any drip or streak on floors unlike other conventional mops. With its spin function, excess water or cleaning solution can be easily removed. Its braided microfiber mop is also super absorbent and effective in removing even the toughest dirt and grime. Removing it and placing a replacement is a piece of cake as well, in fact, you only need a couple of minutes then you can go back to germ-killing and floor cleaning again!