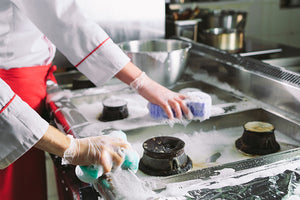 The food industry is always IN. This is simply because people cannot and will not stop on eating. But aside from offering delicious food, impressive presentation, and mesmerising sceneries, owners should also practice proper food and store sanitation.
Since it all goes down to the preparation of ingredients and cookware, we have compiled some very helpful product recommendations, which Lola is confident about when it comes to kitchen cleaning and sanitation:
Lola Tampico Vegetable Dish Brush™ – If you are eco-friendly, we highly advise you to use this brush because it is biodegradable. It is very suitable for cleaning dry and fresh produce such as root crops or anything that came from the earth because it has tough bristles that are perfect from any type of dirt. It can also work lightly on other vegetables as long as you will not use it to harsh so you will not spoil the quality of the food. If you encounter hard to remove stains on cooking pots and pans, you can rely on this brush because it is also ready to assist you with its unmatchable cleaning power.  
Wowables™ Cleaning Cloth – When you own a business that has an integrity that depends on the cleanliness of its kitchen, it is vital to keep every ingredient or cookware free from contamination. Customers may not commonly see the area where the food they eat is prepared, but as part of safeguarding their trust and keeping a good conscience, you must follow regulations and practice cleaning. Speaking of trust, you can trust us on this one; we made our cleaning cloth with best quality materials. Even without the use of chemicals, it can remove germs on surfaces, proving that it is tried and tested.
Anti-microbial Clean n' Wipe™ Cloths – Since we are talking about GERM-FREE food preparation, we are also proud to introduce to you, this cleaning cloth that's treated with anti-microbial agents to prevent the growth of disease-causing bacteria. It is perfect for wiping plates, knives, and even your hands. It is also useful when disinfecting tables and utensils though it may need a bit of backup with some reliable cleaning agents to make sure that the job is 100% done.
Lola Rola Sticky Mop™ – As you have noticed, most if not all of our products are for all-around cleaning. One good example of that claim is this particular product. Compared to conventional mop, we can say that this is far better when cleaning. Equipping your utility staff with a sticky mop will allow them to clean not only your restaurant's floors but also the walls and the ceiling, making sure there is no dirt, dust, web or any debris around. It's cleaning strip can be instantly stripped and disposed when full because another sheet on its mop head will be ready for use.
Soap Dispensing Dish Wand – Of course, dishwashing is also an important process in the food industry. You can't trust just any dishwashing liquid and sponge. You also don't have to look any further, because Lola's Soap Dispensing Dish Wand is available and ready for checkout. It has both sponge and scouring pad to clean any surface. It also has its own dishwashing liquid dispenser making the product a complete package for a very affordable price! What are you waiting for? Check these products out now!