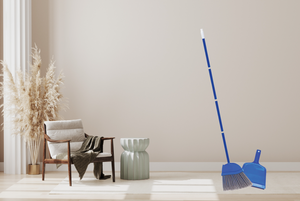 Let's face it, cleaning can be a drag, but having the right tools can make all the difference. The Lola Products Angle Broom with Dustpan is the dynamic duo of cleaning tools that will make sweeping a breeze and leave your floors spotless.
The angled sweep surface easily gets into corners and tight spaces that other brooms can't, thanks to its 9.25" wide broom head. And with its fine flagged tips, even the finest dirt and dust won't stand a chance.
But what about picking up all that dirt and dust once it's been swept? That's where the Clip On Dust Pan with Easy Catch Dust Catching Rubber Lip comes in. It's the perfect match for the Lola Products Angle Broom, and it will leave your floors looking immaculate.
The high gloss resin coated steel 4-piece "Easy-to-Assemble" handle with swivel hang cap is not only durable, but it also makes storing the broom a breeze. And when it comes time to clean the broom, the fibers can be easily rinsed with cool water, making maintenance a snap.
And the best part? Lola Products' Angle Broom with Dustpan is suitable for use on hardwood floors, tile, marble, linoleum, and vinyl, making it a versatile cleaning tool that can be used both indoors and outdoors.
Lola Brand® is known for producing high-quality cleaning tools that are affordable, and the Angle Broom with Dustpan is no exception. Plus, with a 5-year guarantee against defects in material and workmanship, you can trust that you're getting a product that will last.
So, if you want a broom that doesn't leave dirt behind, look no further than the Lola Angle Broom with Dustpan. It's the superhero duo of household cleaning, and with its catchy name, you'll be singing its praises in no time.