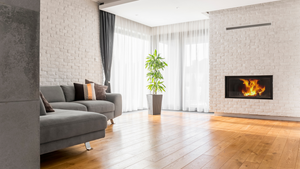 Hardwood floors are one of the main things that make your home special. Aside from giving your home that simple and rustic vibe, they are durable, valuable at resale time, and can enhance almost any decorating style.
But, think about all of the abuse they take lying down, literally! After all, floors take the greatest amount of wear and tear. Think about all the dust, dirt, grime, and debris you bring in from the outside. That said, allowing your hardwood floors to get too dirty is not only unclean, but it can also be too damaging to the wood itself. Believe me when I say that you would not want this to happen because it will be expensive to repair, refinish, or worse, replace.
Fortunately, there are easy ways to give your hardwood floors that special cleaning treatment and keep them beautiful for years.
Wipe up Spills Immediately
To protect and preserve your hardwood floors, this has to be the basic cleaning strategy you need to remember! Spills can't clean themselves up. Even something simple as an ice cube dropping on the floor can wreak havoc on your precious hardwood floor. So as much as possible, immediately wipe up spills with Wowables® Reusable & Biodegradable Paper Towel, then buff dry to avoid stains and keep your floor looking fresh and clean.
Sweep Regularly
Not only is this the most popular, but regular sweeping is also the easiest way to keep your hardwood floor clean. You may start by using the Lola® Angle Broom to sweep any visible dirt. Also, a dust mop that can trap dirt and dust, like the Swiffer® Sweeper® Comparable Wet & Dry Sweeper Floor Mop by Lola®, will work perfectly, too. Then, to complete the regular cleaning combo, use the Lola® Rola Sticky Mop™ to make sure you didn't miss any dust particles. You will need to keep doing this every other day because the fine grit and dirt under your feet act like sandpaper slowly wearing off the hardwood finish.
Use a Damp Mop for Soiled and Stained Floors
There may be times when quick cleaning won't be enough to get rid of that extra grime on your hardwood floors. This is where using a microfiber mop, like the Microfiber Spritz n' Mop with Scuff Remover™, comes into play. Aside from attracting dirt, a damp microfiber mop doesn't hold onto as much moisture as regular mops do, which means that you can clean your hardwood floor without heavily saturating it. Most of the time, water as the cleaning liquid  is enough. But in case of stubborn stains, a homemade cleaning solution with baking soda or white vinegar can always do the trick.
Believe it or not, your hardwood floor is a long-term investment that, with the right amount of care, will definitely last for a lifetime. Like with all good things, a little care here and there is not that hard to give and it is something that you won't regret for the rest of your lives.