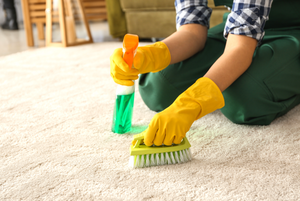 Cleaning brushes are often overlooked and undervalued when it comes to household cleaning, but they can make a big difference in getting your home spick and span. Here are some cleaning brushes that you may never have known you needed.
This small and affordable brush is a great bottle and glass cleaning brush to use at your kitchen or bar sink. It easily cleans most glasses and cups with one motion, making cleaning a breeze. 
This brush is perfect for cleaning your toilet bowl! NO LIQUID CLEANER NEEDED – w/ 500 Brushes your toilet is cleaned as you brush w/ built-in blue cleanser tablet. No more searching around for expensive liquid cleaner or just moving dirty water around. Each cleanser tablet, activated by water, contains BLEACH, keeping your toilet bowl clean, sanitary and odor free, while removing rust & calcium deposits with ease!
This heavy-duty bath and tile scrubber with an ergonomic handle, will make scrubbing much less of a chore. You can clean large areas with ease. Scrub tile, bathtubs and other surfaces.
The Original Dishwashing & Vegetable Brush
Our Lola dishwashing & vegetable brush is perfect for cleaning all types of vegetables, clean dishes and much more! Safe on fine china and coated cookware. Most of all, it's eco-friendly!
This brush has a long, strong neck and is flexible making reaching into and cleaning bottles, glasses and even pitchers a breeze. The bristles are very tough scrubbers getting caked on specs off kitchen gadgets but gentle enough allowing for use even on crystal stemware. It is dishwasher safe.
Lola Large Scrub Brush is great for scrubbing floors, tile, grout and cleaning car rims and tires. It helps to get rid of molds, mildew, soap scum as well as dirt and grime.
In conclusion, these cleaning brushes can help make your cleaning tasks easier, faster, and more effective. From small, hard-to-reach areas to heavy-duty cleaning projects, these brushes are essential tools for keeping your home looking its best. So, the next time you're at the store, be sure to pick up a few of these cleaning brushes and see how they can help make your life a little easier.